About us: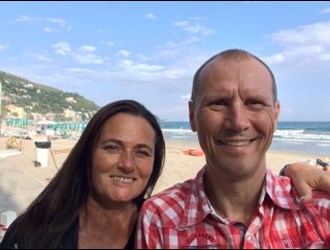 My name is Dan Frost and I was born in 1961 - my wife, Isabelle, was born in 1965. She is half French and therefore speaks fluent French.
Cycling has always been a part of our lives. We both grew up with fathers who raced and I started - after a less glorious career as a football player - to race at age 13.
We have made Bike Tours since the year 2000 - in the first years alongside my work as a teacher and from 2006 next to my busy job as sports director – first 8 years with Bjarne Riis' cycling team and in the year 2014 I was working for Team Sky.
Now I have stopped working as a sports director to focus 100 % on the job as organizer of my bike tours - but I still keep contact with the Pro Peloton as I will be one of the VIP drivers who takes around the celebrities in this years Tour de France.
My wife Isabelle (better known as Isa) has worked for many years at a ministerial office in Copenhagen and are used to arrange and organize. She is the one who takes care of the logistics and much more while she also drives the support car on the tours.
I enjoy very much to ride with the guests in a "relaxed" atmosphere and show all of you the beautiful mountains and the stunning views - and of cause I also appreciate a cold beer after the daily tough stage!!
Welcome with us on Tour.

About my active career:
-  World Champion 1986
-  Olympic champion 1988
-  19 Danish championships on both road and track
-  Several seasons in France (1985 - 1992)
-  Stopped as top cyclist in 1992 after the Olympics in Barcelona
-  Since 1992 recreational cyclist
-  Have organized bike tours since 2000
-  Have arranged more than 100 trips to France, Spain and Italy
-  2003-2005: Member of the Board in Danish Cycling Union
-  2006 - 2013: Sports director at Team CSC, Team Saxo Tinkoff
-  2014: Sports director at Team Sky
-  2015-> Owner of Dan Frost Cycling and commentator for DR-TV and Danish Eurosport